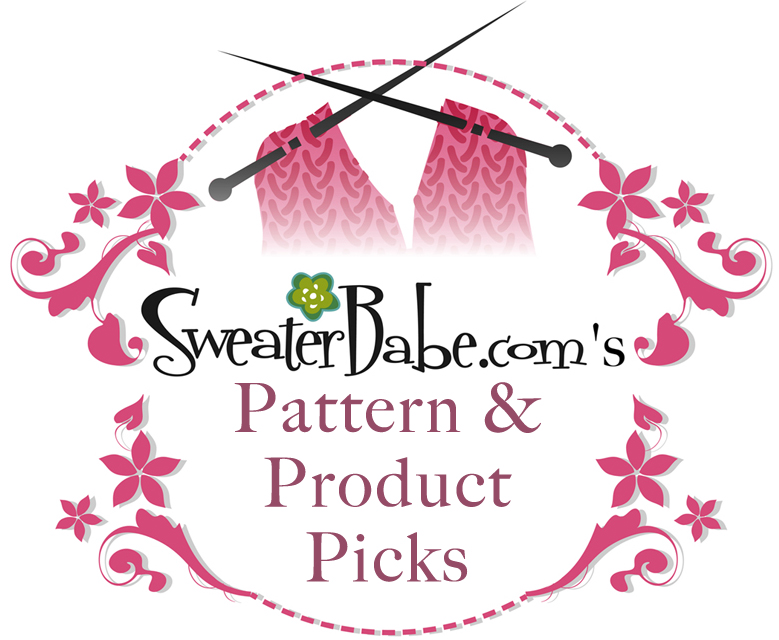 Please review these Guidelines before submitting your Pattern & Product Picks Ad:
GENERAL GUIDELINES:
Ads only accepted for individual PDF knitting and crochet patterns that are immediately downloadable for free (the FREE Ad slot) or after online purchase (the Pattern/Product for purchase Ad slots). Or for knitting and crochet-related products that are available for online purchase.
Advertisers will be responsible for pattern and product support and all aspects of pattern or product purchase or download. Please be sure you have customer service contact information listed clearly on your download/sell page as well as on the pdf pattern itself.
Once submitted, Ads cannot be cancelled by Advertiser or refunded (except if SweaterBabe.com cancels it because desired Ad placement is filled or an Ad Graphic or Copy cannot be approved).
Advertiser must have full rights to pattern or product distribution and image graphics submitted and indemnify SweaterBabe.com against any and all liability.
We reserve the right to reject any Ad for any reason.
Payment due in advance (via credit card processed by Paypal) in order to "reserve" your Ad placement.
Within 3 business days (IMPORTANT NOTE: During summer months, please allow up to 5-10 business days, as my computer access may be limited), you will receive an email confirming your Issue and Ad Spot placement. If your desired placement is already full, you will then have the option to reschedule, or cancel for a full refund.
AD GRAPHICS GUIDELINES:
Ad graphic can be a maximum size of 400 pixel width x 570 pixel height. Ad graphics submitted that are larger than this are subject to cropping at SweaterBabe's discretion. This vertical aspect ratio should allow you to showcase your pattern well, and makes for a good Pin-able image (for Pinterest).
Ad graphic will be displayed full-size on your Ad page; it will be displayed slightly smaller (280 pixel width) in the email Issue. You only need to upload the full-size version.
No flash or animated images.
Graphics must be in .jpg or .png format and cannot be more than 50K in size.
No text allowed in images, except pattern or product name.
Images are subject to approval.
Blurry, poorly lit, or inappropriate Ad Graphics will be rejected. Advertiser can then submit a new graphic before their Issue submission deadline. If an acceptable graphic cannot be submitted or is not submitted in time, Ad will be rescheduled or cancelled and refunded (minus a $15 cancellation fee).
We highly recommend you photograph in natural light, with simple, uncluttered backgrounds. Using a model or mannequin when possible will also help "sell" a pattern.
Product and pattern images should only promote and show one specific product or pattern.
AD COPY GUIDELINES:
Ad copy can be up to 500 characters long (incl. spaces).
All 500 characters will be included on your Ad page; only the first 200 characters (not incl. spaces) will display in your Ad summary in the email newsletter, so plan accordingly.
No ".com" text or links are allowed in the Ad copy.
Text must only sell the one pattern/product being advertised. No upselling or mention of other patterns or products. The LANDING PAGE for your Ad must also only sell or promote the one pattern/product being advertised.
Sorry, we cannot offer any editing services or correct spelling mistakes or typos - the Ad copy will appear exactly as you enter it in the online Ad submission form; however, we reserve the right to delete any copy that does not follow the guidelines noted here.

ADDITIONAL GUIDELINES FOR "FREE PATTERN" AD SPOTS:

"I've advertised on the other major knitting sites, but I've not ever had results like this. And I was really surprised by the number of people that bought one of my patterns at the same time they were getting the free pattern." -- Cheryl of Cheryl Bekerich Knits.
Your Pattern must be immediately available as a free download for at least two full months after the email's publication date.
Free patterns must link to a page that has a direct download link for the free pattern. Free patterns cannot require (or imply the requirement of) a customer's email or a checkout process in order to download. Pop-ups to capture emails are also not allowed.
If you add the subscription option, the free download needs to be available for as long as your subscription runs.
This Ad Spot is limited to one per email Issue and is filled on a first-come, first-served basis. It will appear at the bottom of each Issue and traditionally gets the most click-throughs because it is free.
If the email Issue you wish to book is already taken for this Free Pattern Ad Spot, you will be notified within 3 business days (IMPORTANT NOTE: During summer months, please allow up to 5-10 business days, as my computer access may be limited) and can choose to reschedule, cancel for a full refund, or switch to a "Pattern for Sale" Ad spot.
"PATTERN/PRODUCT FOR SALE" AD SPOTS GUIDELINES:
Your Pattern or Product cannot be a free download.

Up to SIX "Pattern/Product for Sale" Ad spots will be included in each email Issue, above the one "Free Pattern" Ad. Spots will be filled top to bottom in order of Ad submission/booking.
SUBSCRIPTION OPTION:
If you choose the $4.99 per month subscription option to extend your Ad page placement, your "extension" will begin the day after your two-month initial placement has ended and will continue for as long as you wish your subscription payments to run. You will be invoiced for the $4.99/month payments once the Pattern & Product Picks email has been published.
You can cancel your "subscription" option billing agreement anytime by visiting PayPal to cancel it. When you do, your Ad page will be removed from the site right away.
For all other questions, please email ads @ sweaterbabe dot com.
Ready to Book Your Ad?