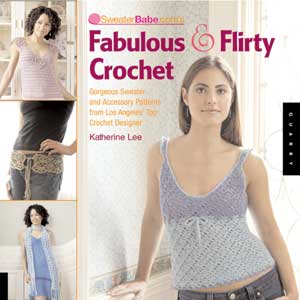 "SweaterBabe.com's Fabulous & Flirty Crochet", features 20 of my new sweater and accessory patterns for women. You'll find patterns that showcase my signature design style - flattering, fitted shapes, lovely textures, sophisticated colors, and lots of sexy detailing.

* The patterns range from beginner to advanced.
* I used great, more classic yarns and included general yarn information for each pattern, so yarn substitutions are easier.

* There are beautiful color photos of every project, plus close-ups so you can see the stitch pattern details.

* Crochet symbols, as well as written-out instructions, are included for every stitch pattern.

Preview the book below. Available at online booksellers like Amazon.com.



Here is a sampling of the gorgeous projects from the book: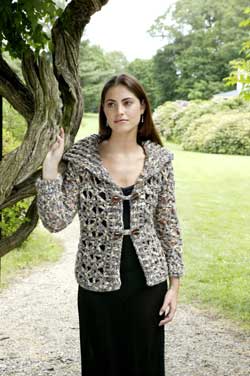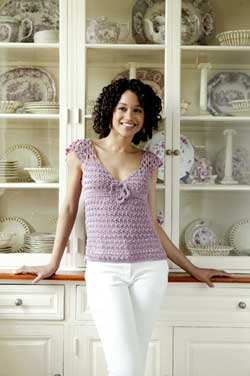 What Crocheters are saying
about SweaterBabe.com's Fabulous & Flirty Crochet...

"The 200-year-old craft isn't just for grandmas making baby booties and doilies anymore. People in their 20s, teens and even 'tweens are hooking up with the craft through multigenerational classes and clubs, as well as through the explosion of hip new pattern books such as 'Cool Crochet,' SweaterBabe.com's 'Fabulous and Flirty Crochet' and 'Stitch 'N Bitch Crochet: The Happy Hooker'... "
-- Delma J. Francis, Star Tribune ("Off the Hook" article in the Minneapolis-St. Paul, Minnesota Star Tribune, April 26, 2006)

"Just a quick note that I just got your Fabulous & Flirty Crcohet book through Amazon yesterday - It's GREAT! Can't wait to start doing these for Christmas presents for my daughters & granddaughters and ... Wonderful. You are a very talented and creative designer. You make your work easy to follow and the results are professional looking - as well as up to the minute!"
-- Sue M. from Easton, PA

"As a crocheter, I'm excited about having a book with such beautiful, designs available to me. It's very rare that I find crochet designs that I'm interested in making. Thanks!"
-- Kristen T. from Lowell, MA (www.kristentendyke.com)

"These are beautiful!!!! I am mostly a knitting snob because I remember the days of granny squares and Super Yarn Mart acrylic yarn. But the sweaters you are showing are not crochet-ey looking, but just really really pretty. I am buying it today!!!"
-- Melise from Altadena, CA

"The book looks super cute! I am not really a crocheter, but I would be inclined to up my skill level just so I can make that cute purse!!!"
-- Lainie from Monte Sereno, CA

"...The price is good, the patterns are fabulous (and they really are - honest!) and I can't imagine someone buying this book and not making every single thing in it. I am thinking ahead to making the Flutter-Sleeve Top and the Slim-Fitting Cardigan. They are beautiful!"
-- from the review at HankeringforYarn.com